Sucheta Bhide - Breathing New Life into Old Pieces
We caught up with the owner of The Resplendent Crow, Sucheta Bhide, about her thriving, 5-year-old furniture refinishing business. We talked about all things color, lacquer, and gloss and gained some expert design tips along the way. Re-watch the IGTV Live event here or read below for a quick recap of our conversation.
Images Courtesy : Instagram
The Resplendent Crow, Sucheta Bhide
Sucheta came to the United States 23 years ago from her homein Mumbai, India. Now she lives in University City, Missouri, with her husband Eric. Eric happens to be a master cabinet builder, making the two a perfect furniture business duo!

With high gloss lacquer, vibrant colors, and shiny hardware, Sucheta glamorizes vintage dressers, desks, tables, and much more.
Sucheta loves to repurpose high-quality vintage furniture which has already withstood the test of time. By refinishing it with lacquer, she only breathes new life into her pieces.
Sucheta completes each of her transformations by adding statement hardware pieces as the finishing touch. For her, hardware is like the "jewelry to the dress," which can tie together a whole outfit. Addison Weeks is one of her favorite ways to accessorize!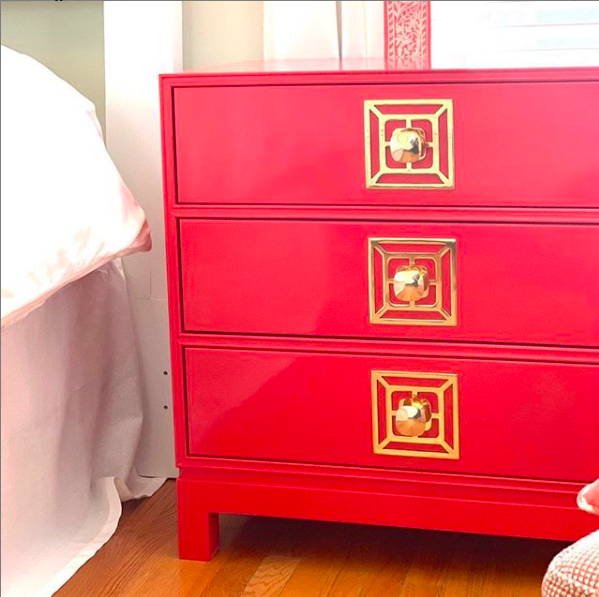 "Hardware is like the jewelry to the dress.
"I love adding new hardware to these super traditional pieces." says Susheta. Some of her most recent paint colors to pair with Modern Matter by Addison Weeks hardware are: Benjamin Moore Soot, Benjamin Moore Perky Peach, Hermes Orange and Benjamin Moore Seaweed.
Right now, a color that she can't stay away from in her projects is Hermès orange, which she recently matched with Modern Matter lapis pulls.
If vintage furniture could tell stories of everyday life in the 50s & 60s, we'd all be fascinated.
- Sucheta Bhide
We had so much fun talking with Sucheta and learning about how she uses vibrant, bold furniture to brighten any room. Follow her on instagram @theresplendentcrow to see more of her projects and how she uses Modern Matter hardware to embellish her work.
Images Courtesy : Instagram
Sucheta's Tips for Installing Hardware
1. Find the center of the surface using a ruler and mark it with painter's tape.
2. Using a drill, make a small pilot hole (this will help the back of the drawer not fall off).
3.Drill the larger sized hole, and from there the knob is easy to screw in.